For the past seven years art enthusiasts, collectors, advisors and dealers have headed to the Dallas Art Fair, and for good reason. The fair attracts galleries internationally (Hong Kong, Tokyo, Rome, Zurich…), galleries here in the U.S. (New York, Santa Fe, Los Angeles, San Francisco...), and those right here in Texas (Dallas, Houston, Fort Worth, Marfa). This year the Fashion Industry Gallery in Dallas' Downtown Arts District was filled to the gills with over 95 galleries exhibiting, twenty more than last year.
As I walk through the aisles of the fair each year, I try to be aware of what has changed from the year prior. I try to notice trends and see if galleries are pushing a particular artist more than last year; to see if certain mediums are becoming more desirable and collected more, to find out the ol' what's hot and what's not.
A large number of works shown were on reflective surfaces, either mirrors or aluminum – a substrate that allowed some sort of reflection of the viewer. The piece by American artist Jill Magdid, "Security Measures: Pay Attention to Who is Directly in Front of You," is a great example. She is represented by RaebervonStenglin, Zurich, here is the gallery's image of the work.
And here is the picture I took.
I took a picture from the far left to avoid being in the shot, but…it's a mirror. You can't avoid being a part of the work. The viewer cannot experience the work without being in it; even the attempt of avoiding your reflection in the work is informing your participation with it and is answering the question the piece has in bright red letters along the bottom, no doubt. "Pay Attention to Who is Directly in Front of You"
New York artist Rashid Johnson, represented by Massimo De Carlo, Milan/London, had one of his large mirrored pieces showing as well. Again, we are engaging the artwork as part of it. The mirror reflects the physical image, and with it the perceptions of ones self and the perception of self, a simultaneous interaction as we view and consider the piece.
Bertrand Lavier, also from Massimo De Carlo, had a 49 x 49" Acrylic gel on dibond on wood piece on display. The artist's gesture and movement through the clear acrylic gel distorts the viewer's image as they observe, changing the perception as one engages the work.
There was also the work of Korean artist Chul Hyun Ahn with C. Grimaldis Gallery, Maryland, who has shown at the fair the past several years with great success. People really enjoy his neon and mirror works that seem to break dimensions and the illusion of space as he questions and explores the gap between the conscious and subconscious.
Pieces with reflective surfaces, though of interest and worth note, do not qualify as a trend. The trend this year, and a trend I think we will continue to see coming strong, is new-media.
Artworks created with or in some way dealing with new media technologies were more prevalent this year at the fair than any year prior. New media is on the rise, in popularity, acceptance and collectability.
Matthew Plummer-Fernandez's 3D printed sculptures were great. The Zhulong Gallery, Dallas, artist 3D scans everyday items using a digital camera. The images are then subjected to algorithms that abstract and change them into new forms. Sometimes the pieces come out looking like something recognizable, like the watering pot, and other times the viewer is unable to trace the piece back to something tangible. According to Plummer-Fernandez, "Vessels are arguably the lowest common denominator for man-made objects across all cultures, these objects however have no storage function other than to embody the stored digital data that describes them."
They are very interesting pieces constructed through a new process, one that brings into consideration the importance and value of the artist's hand involved in a work. The discussion here, the shift from hand-thrown and fired ceramics to digital printing with plaster and a bonding agent, is the same that stretched the art world's definition and mentality of original art when photography was on the rise as an art form; it is the same with the artists who have a fully staffed workshop to complete their works for them. The importance of an artist's involvement with a work of art, whether as overseer or doer, is at question and is presented for discussion to the audience in small machine made sculptures.
Plummer-Fernandez also had a video instillation on display called, "We met Heads On."
Hosfelt Gallery, San Francisco, had several new media pieces showing by California artist Jim Campbell. According to Hosfelt, "Campbell uses technologies developed for information transfer and storage to explore human perception and memory."
What was really engaging about these works ("Topography Reconstruction (wave), 2014," shown above) was the three-dimensional format. Instead of having the piece just loop on a screen, on a two-dimensional plane, Campbell has constructed a new format to engage his audience.
Alexandra Gorczynski of Zhulong Gallery, Dallas, had her work "Chronotape 1" on display. It was a very engaging piece. In her work she embeds video into images of ancient sculptures. It's smart and intriguing, juxtaposing an image having art historical weight with contemporary streaming video.
All of these new media pieces mentioned solved the one thing that always puzzled me about the art category (installation works, earth works and the like); collectability. The majority of new media work I'd seen in the past I couldn't see being successfully exhibited anywhere besides a gallery or museum. Each of these works I could see in a home or office space on display, serving its purpose and intent.
Some of my favorites from the show:
Kirk Hopper Fine Art, Dallas had several mixed media steel and glass works by well-known Texas based artist James Magee on display.
Carlos Cruz-Diez, Sciardi Gallery, Houston, chromography on aluminum works, "Physichromie Pan Am 123, 2013," and "Physichromie Pan Am 60, 2013"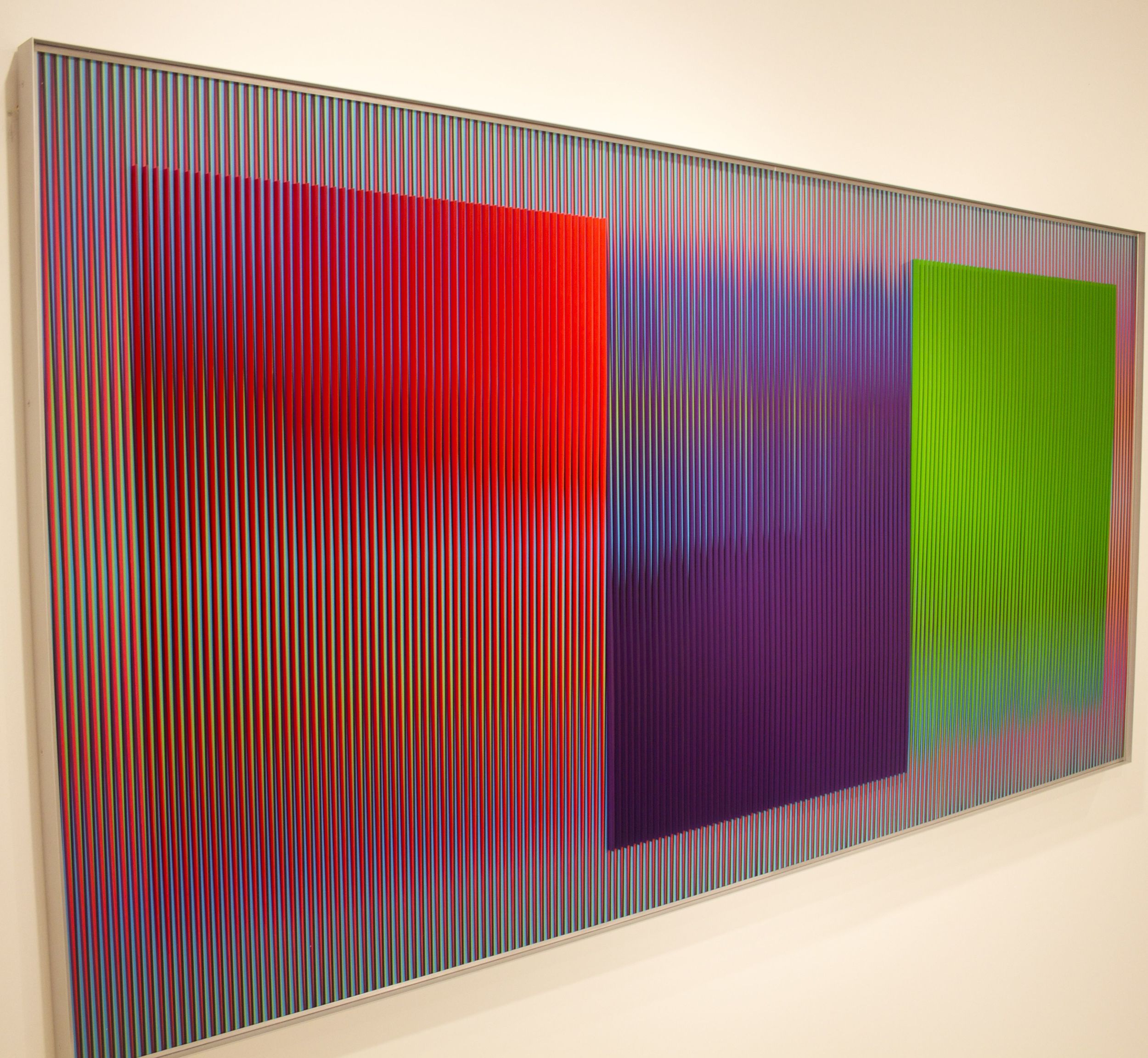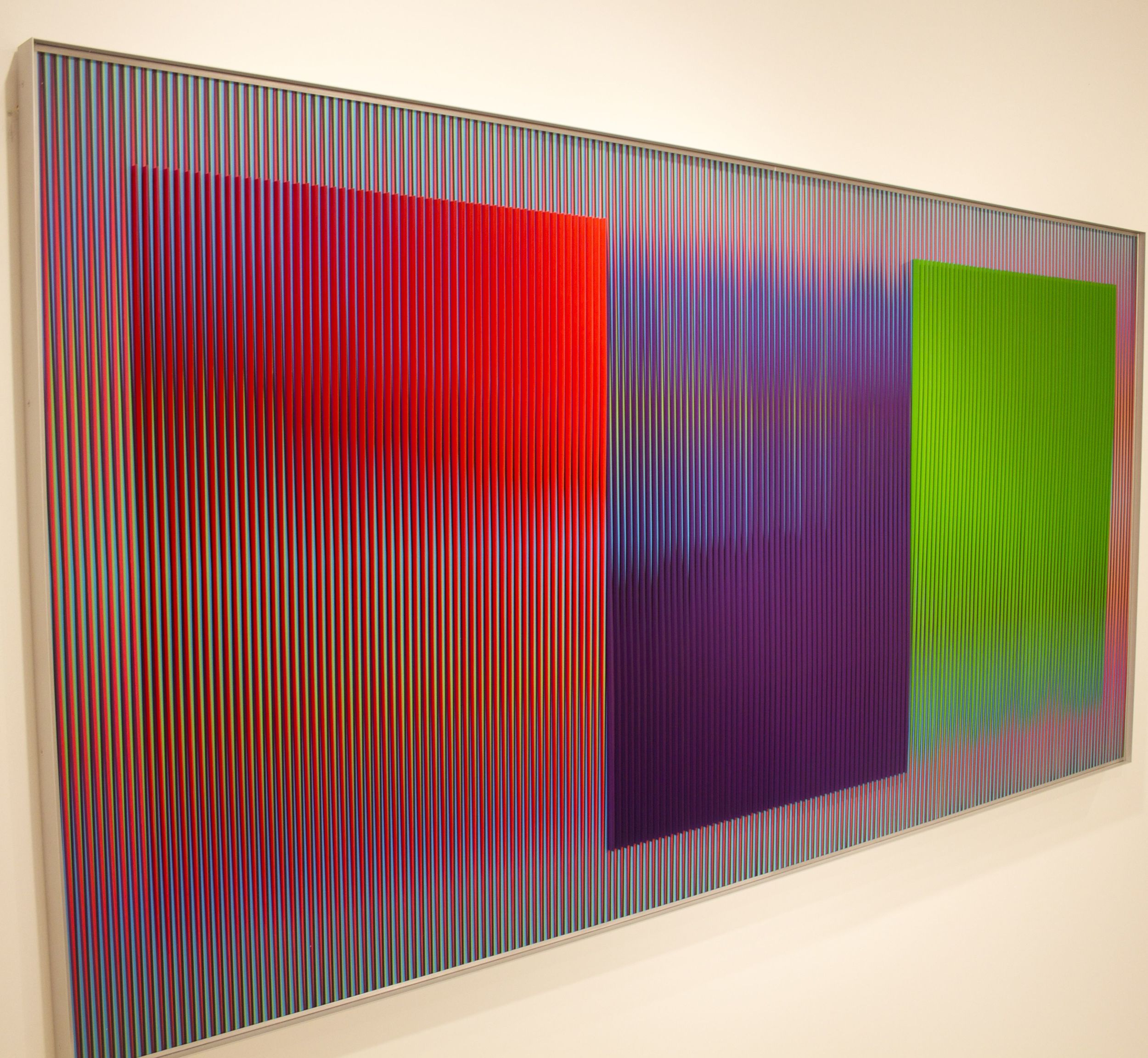 "Spring Flowers at night," Talley Dunn Gallery, Dallas and "Still Life with Oranges," DC Moore Gallery, New York by Texas artist, David Bates.
A few works by Gallery Henoch, New York, artists: Janet Rickus, Steve Smulka, Robert Jackson and Eric Zener
As with every year, I saw several sold stickers on works throughout the galleries. I was even able to congratulate and talk with a dealer early on Friday who had completely sold out on Thursday during the preview gala.
The Dallas Art Fair is one of the very best shows in contemporary art, and if it keeps this pace, it's only going to get bigger. It is a privilege for Dallas to have such a great annual showing of contemporary art from all over, a show that engages a local audience for contemporary art, and one that will likely drive the local contemporary art market.
-M.P. Callender